It's the last weekend before Christmas! NOOOO! Where did the time go? I know, you should probably be shopping for last-second gifts and trying to navigate the mall parking lots, like a goon. But why do that when you could stock up on a huge number of PC titles? Because let's face it, Christmas only comes once a year and you can say the same thing about winter sales. GameFly Digital is continuing its EA Holiday Sale, but they also have Metal Gear Rising: Revengeance for $19.99. That's the same as many other retailers until you factor in the 20% off coupon, which will bring that down to $15.99. Meanwhile, so many other retailers have kicked off their own winter sales, including Amazon with a grip of bundles, GamersGate continuing their Buy 3 Get 1 Free promo, Green Man Gaming offering daily deals by publisher, Humble Bundle just killing it with fantastic deals on indie titles, and Steam being Steam with their gargantuan Winter Sale. Check out the best deals after the break. Here's our selection of this weekend's PC deals:
GameFly Digital
Use the code GFDDEC20 to get (roughly) these prices or if you're across the pond, use GFDDEC20UK. This code should also work for the Winter Sale flash deals, too! Some restrictions may apply. Also, GameFly Digital's EA Holiday Sale continues. Purchase any EA game (excluding DLC) and get a free copy of Command & Conquer: Red Alert 3 at no extra charge.
Metal Gear Rising: Revengeance
Amazon
BioShock Infinite
Bundle Stars
Pay $3.48 for Insanely Twisted Shadow Planet, Blood of the Werewolf, Slender: The Arrival, And Yet It Moves, Doc Clock: Toasted Sandwich of Time, Plain Sight, and Snuggle Truck. All activate on Steam. Or Pay $3.99 for Agricultural Simulator 2013, Combat Wings: Battle of Britain, GTR2: FIA GT Racing Game, Off-Road Drive, Pacific Storm Allies, Race On, STCC II, Trainz: Classic Cabon City, and Trainz: Settle & Carlisle. All activate on Steam. Or pay $3.48 for APB Reloaded (Stackable Premium Pack), Arena Wars 2, Coniclysm, Governor of Poker 2 Premium Edition, Prime World: Defenders, and Clickr. All activate on Steam, except APB, which is a promo code.
GamersGate
All titles that fall under GamersGate's Holiday Sale are available at a Buy 3, Get 1 Free rate! This includes daily FLASH SALES!
Dark Souls
GameStop
NBA 2K14
Get Games
Sleeping Dogs
GOG
Don't Starve
Green Man Gaming
Use the code GMG20-ZB5D1-93X49 for 20% off to get roughly these prices. Some exclusions apply. Green Man Gaming is offering new deals each day on various games, separated by publisher. Check out the deals for:
Brothers: A Tale of Two Sons
Humble Bundle
Pay what you want for Little Inferno, Gemini Rue, AaaaaAAaaaAAAaaAAAAaAAAAA!!! for the Awesome, and Jack Lumber. Pay more than the average $4.17 to also receive Hero Academy and Anomaly 2. These games play across PC, Mac, Linux, and Android mobile devices. Soundtracks are included with select games. Pay at least $1 for Steam keys. Also, pay what you want for Ultratron, Droid Assault, Revenge of the Titans, and Titan Attacks! If this bundle sells over $150,000, all buyers will receive the PuppyGames source code. Pay more than the average $3.46 for Steam keys.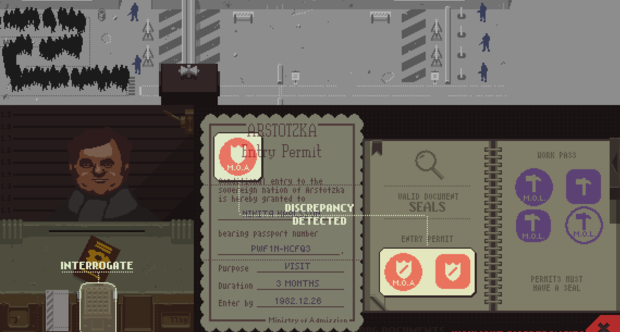 Papers, Please
Steam
As well as regular discounts, Steam has a couple of additional weekend deals.
XCOM: Enemy Within