For you, dear reader, I have missed cheap door entry at dancing so I might properly scrutinise this weekend's sales at digital distributors. Because I care. Offers include Hotline Miami for $2.71, FTL for $2.49, The Witcher 2 for $7, XCOM: Enemy Unknown for $11, Dishonored for $16, and Dead Island Riptide for $20. There's oh so much more, of course. Here's our selection of this weekend's PC deals:
GameFly
You'll need to use the code GFDJUN20 to get these prices. They're not quite exact because accessing the US site is a pain for me here in England but hey, close enough.
Dishonored's Knife of Dunwall DLC
Amazon
Amazon has loads of sales to celebrate the formalising of its indie games section, where you'll far more than I list in this general-purpose deal-o-rama:
Mirror's Edge
Blizzard
Mirror's Edge
GamersGate
King's Bounty: Armored Princess
Get Games
Scribblenauts Unlimited
GOG
GOG has a huge huge summer sale with 50% off a bajillion games and daily deals with mega-discounts. You'll find cracking bargains like System Shock 2 for $4.99 in the main sale, but the way to handle any sale with daily deals is to wait and see if games you want come up in dailies first. So I won't list regular sale stuff. These and more are at these prices until 6am Pacific on Saturday morning:
The Witcher 2
Green Man Gaming
GMG offers 20% off most games with the code GMG20-6WUSQ-LBC4U. I'd include this with the prices listed below, but GMG has messed with its website so there's no easy way to remove items from the basket (which I need to check the voucher's valid on each game) and I have neither time nor patience to deal with this rubbish. So you can probably knock another 20% off these: daily deals on Square Enix games. Again, voucher etc, but these are until about 7am Pacific on Sunday: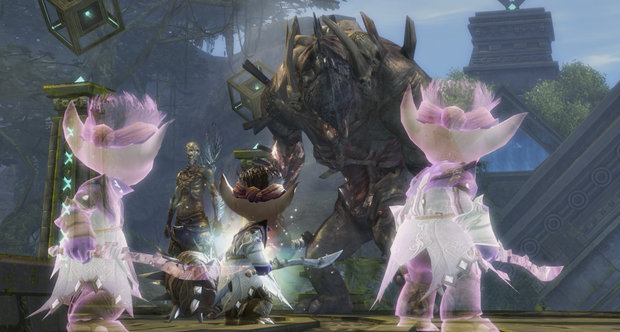 Guild Wars 2
Humble Bundle
Pay what you want for Aquaria, Fractal, Organ Trail, Pulse, and Stealth Bastard Deluxe. Beat the average price to get Broken Sword: Director's Cut and Frozen Synapse too. Steam keys if you pay at least a dollar. All are for Android, PC, Mac, and Linux, except for Pulse, which is Android-only. Or, pay what you want for Rochard plus its Hard Times DLC. Pay at least a dollar for Steam keys.
Stealth Bastard Deluxe
Impulse
Rage's Scorchers DLC
Indie Game Stand
Pay what you want for 8-Bit Commando.
8-Bit Commando
Indie Royale
Pay what you want, above a minimum, for Breath of Death VII, Cthulhu Saves the World, Eufloria, Really Big Sky, and Runespell: Overture. All come DRM-free or with Steam keys.
Eufloria
Steam
Paradox Interactive weekend sale, with 50% off most games this weekend plus bigger daily deals. These are until 10am Pacific on Saturday morning:
Dead Island Riptide
Subset Games
Friday:
FTL