Don't buy Christmas presents. Those people don't deserve them. They don't respect you. Video games do. Buy more. Video games love you. This weekend's downloadable PC deals include the newly-subscription-free MMO The Secret World for $15, Legend of Grimrock for $4, Syndicate for $5, Torchlight II for $10, Crysis 2 for $10, The Walking Dead for $13, Chivalry: Medieval Warfare for $13, Darksiders II for $17, Dishonored for $30, Need for Speed Most Wanted for $30, Hitman: Absolution for $30, and loads more. Here's our selection of this weekend's PC deals:
GameFly
Friday and Saturday: Sunday and Monday:
Kingdoms of Amalur: Reckoning
Amazon
Syndicate
Bundle in a Box
Pay at least a dollar to get Delve Deeper plus DLC, Eversion, Fibrillation, War of the Human Tanks, and Shadows of the Vatican Act:I. Beat the average to get The Adventures of Shuggy, zany FMV game Stay Dead, Flibble, and The 4th Wall too. Some can be activated on Steam.
The Adventures of Shuggy
Bundle Stars
Pay $6.68 for Men of War: Vietnam, Off-Road Drive, Reign: Conflict of Nations, Death to Spies: Moment of Truth, Death Track: Resurrection, Star Wolves 2, Real Warfare 1242, and Real Warfare 2: Northern Crusades. All must be activated on Steam.
Men of War: Vietnam
GamersGate
The Darkness II
Get Games
Friday: Weekend: Get any two of the following games for $10:
Alpha Protocol (Steam)
Batman: Arkham Asylum
Borderlands GotY Edition (Steam)
Deus Ex: Human Revolution (Steam)
Duke Nukem Forever (Steam)
Empire: Total War (Steam)
F.E.A.R. 3 (Steam)
Mafia 2 (Steam)
Napoleon: Total War (Steam)
Sid Meier's Civilization IV Complete (Steam)
Binary Domain
GOG
GOG's huge holiday sale has discounts on a bajillion games, and bigger savings in daily deals. Friday:
Legend of Grimrock
Green Man Gaming
GMG's jazzing up pre-orders for Aliens: Colonial Marines, Tomb Raider, BioShock Infinite, and Dead Island Riptide with offers of money back, extra credit, or vouchers. Also, sales: Friday: Weekend:
Chivalry: Medieval Warfare
Groupees
Pay at least $1 for Eschalon: Book One, CeVille, Paranormal, Monarchy, Men of War: Condemned Heroes, The Stealth Project, and Rico: A Tale of Two Brothers. Over $5, you'll also get Dawn of Fantasy, Worms Reloaded, Two Worlds Epic Edition, Gorky 17, and Earth 2160. Some can be activated on Steam.
Worms Reloaded
Impulse
Hitman Absolution
MoaCube
Cinders
Steam
As well as being on sale all weekend, Red Orchestra 2 is free to play until Sunday. Click here to install it through Steam.
Crysis 2
Subset Games
Friday: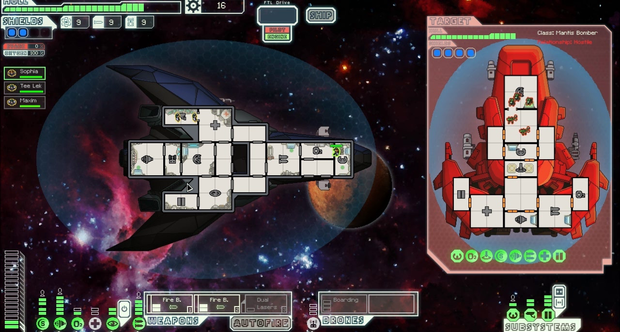 FTL