The nights are growing nighter as autumn draws in, so wrap up all snug and warm with some bargain PC games. This weekend's offers from digital distributors 66% off everything Saints Row: The Third, more pay-what-you-want bundles than you can shake a stick at, XCOM: Enemy Unknown pre-orders for $37, and some lovely cheap Killing Floor. Here's our selection of this weekend's PC deals:
GameFly
F.E.A.R. 3
Amazon
The Walking Dead
Bundle In A Box
Pay what you want, above 99¢, for a bundle with Death Ray Manta, Space Giraffe, The Wreckless, Dark Scavenger, Armalyte, Bagfull of Wrong, and War Mac 2000. Pay above the average price to also get Sol: Exodus, Miner Wars Arena, and RobotRiot. All games are available DRM-free, some can be activated on Desura, and Space Giraffe offers a Steam key.
Space Giraffe
Cryptic Comet
50% off all its games with the coupon code OCCULT.
Solium Infernum
GamersGate
GamersGate wants you to build your own indie bundle from 24 games. 3 games costs $4, 6 are $7, you get 9 for $9, and can get the whole shebang for $20. Then there are these plain old regular deals too:
Ridge Racer Unbounded
Get Games
Oil Rush
GOG
GOG has a load of Atari games on sale, including:
Blood
Green Man Gaming
You can get 20% off almost everything with the voucher code GMG20-27J4Z-8NXHO. Use that to get these prices: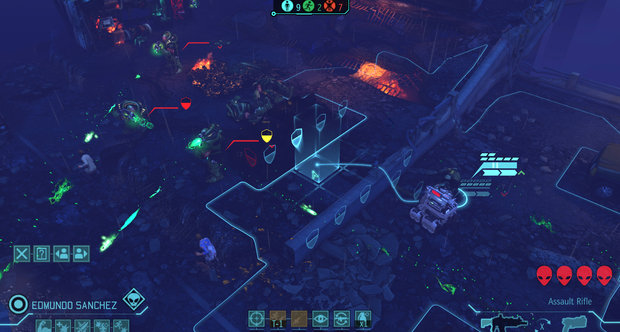 XCOM: Enemy Unknown
Humble Bundle
Pay what you want for Rochard, Shatter, Space Pirates and Zombies, Torchlight, and Vessel. Beat the average price to get Dustforce too. With five of the games' soundtracks too! Pay more than $1 to get Steam keys for them all on top of the DRM-free downloads.
Space Pirates and Zombies
Impulse
Fallen Enchantress
Indie Gala
Pay what you want for Alien Breed 2 and Worms plus Android versions of Battlegroup and Call of Cthulhu: The Wasted Land. Pay more than $5.87 to also get Broken Sword, Broken Sword 2, Broken Sword 3, Worms Blast, Worms Crazy Golf, and another two mystery games. Except for the Android games, they're all Steamy.
Worms
Indie Royale
Pay what you want, above a minimum price, for a bundle of Swords & Soldiers plus its DLC, Lunar Flight, Bunny Must Die!, Sequence, Flying Red Barrel, Qlione, and Cute Things Dying Violently. Some offer Steam keys.
Swords & Soldiers
Steam
As well as being on sale, the full game of Saints Row: The Third is free to try until 1pm Pacific on Sunday. Click here to download it through Steam.
Killing Floor