As the industry gives a collective groan of exhaustion from its annual E3 binge, online retailers continue to offer steep discounts on recent big-budget blockbusters and even more recent indie releases. This week's deals include some cheap Borderlands action, Dark Souls 2, classic Final Fantasy games, and Broforce, among many others. Here's our selection of this weekend's PC deals:
Amazon
XCOM: Enemy Unknown
Bundle Stars
Pay $4.99 or the Vendetta Bundle (Sniper 2, Alien Rage, Disciples Reincarnation, Deadly 30, Fearless Fantasy, Muffin Knight, Street Racing Syndicate, I Am Vegend: Zombiegeddon, Iron Grip: Warlord, Iron Grip: Warlord Scoreched Earth DLC) Or pay $3.49 for the Other Worlds Bundle (1953: KGB Unleashed, Trauma, Mata Hari, Jack Orlando Director's Cut, Alter Ego, The Void, The Tiny Bang Story, The Journey Down: Chapter 1, Kingdom Tales, Time Gentlemen Please, - Ben There Dan That, The Witch's Yarn, Cargo: The Quest for Gravity) Or pay $2.49 for The Resurrection Bundle (Gun Metal, Grimmind, Hostile Waters, Anteaus Rising, Humanity Asset, Nosferatu: Wrath of Malachi, Realms of the Haunting, Soulbringer, Ampu-Tea, Chompy Chomp Chomp, Cobi Treasure Deluxe, Marine Sharpshooter 2: Jungle Warfare, Desert Thunder, Manhunter, Radical Roach: Deluxe Edtion)
Eurotruck Simulator 2
GamersGate
GamersGate has kicked off its Summer Sale, offering discounts on Dark Souls 2, Trials Fusion, Outlast, and more. A 48-hour Sega Sale is also on, offering discounts on Castle of Illusion starring Mickey Mouse, Company of Heroes 2, Total War: Rome 2, The Cave, Football Manager 2014, and Space Marine.
Dark Souls 2
GameStop
Tomb Raider
Get Games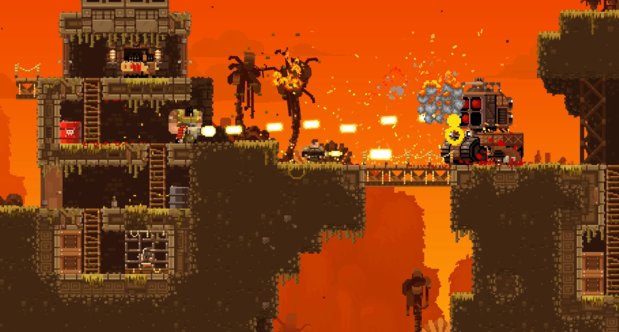 Broforce
GOG
GOG's DRM-Free Summer Sale is offering discounts on more than 700 games, with new bundles updating throughout the weekend. Here's a sampling.
Amnesia: A Machine for Pigs
Green Man Gaming
GMG has continued last week's I.F.D. sale with an "Encore" presentation. It's offering 24 hour deals and other discounts running throughout the weekend. Today, for example, you can grab Castle of Illusion for $3.74, a double pack of Final Fantasy 7 and 8 for $11.99, and an XCOM Collection for $19.99
Final Fantasy 7
Humble Bundle
Pay what you want for Serious Sam: Complete Pack, Serious Sam 3: BFE, Minecraft: The Story of Mojang Complete Edition, Omega Jam Documentary, The Quiet Girl's Guide to Violence, Cryptic Sea EP, A Virus Named Tom, Men With Beards, Ecstacy of the Order: The Tetris Masters, and Cinema Six.
Serious Sam 3: BFE
Indie Royale
Pay above the minimum for Doorways, Ring Runner: Flight of the Sages, Famaze, Restaurant Empire 2, Knights and Merchants, Finding Teddy, Turba, and Spandex Force: Champion Rising.
Steam
In addition to regular discounts, Steam has a few weekend deals.