We're halfway through the month of March and some of the spring's most anticipated releases have already started to arrive. But there's still more on the way and unless you're looking to get buried under an avalanche of backlogged games, you might want to take a weekend to catch up, thanks to another weekend of amazing deals. Steam and GameFly Digital are both going in with huge springtime sales, the former of which features a number of cool bundles. Green Man Gaming has a couple of good Namco Bandai games, while Get Games wants to give you free Hotline Miami with your purchase of Shadow Warrior. And GOG is letting you pick five games to save big, as part of its St. Patrick's Day sale. And yes, St. Patrick's Day is this Monday, in case you wanted to know. The full list of deals can be found after the break. Here's our selection of this weekend's PC deals:
Amazon
Contrast
Bundle Stars
Pay $2.00 for Afterfall Insanity Extended Edition, Disciples III: Renaissance, Galaxy of Fire Full HD, Sniper: Ghost Warrior Gold Edition, Tower Wars, and Weird Worlds: Return to Infinite Space. All activate on Steam. Or Pay $4.99 for Ring Runner: Flight of the Sages, Etherlords II, Master Reboot, Expeditions: Conquistador, Rock of Ages, Postal, Gun Monkeys, Heli Heroes, Monday Night Combat, Axis Game Factory, Bang Bang Racing, and Kaptain Brewe: A Brawe New World. All activate on Steam. Or pay $3.99 for One Finger Death Punch, Tiny and Big: Grandpa's Leftovers, Paranormal, Foreign Legion: Buckets of Blood, Hexcells, Adventures of Shuggy, Critical Mass, and CreaVures. All activate on Steam.
One Finger Death Punch
GameFly Digital
Use the code MAR20OFF to get (roughly) these prices or if you're across the pond, use UKMAR20OFF. But hurry, because it expires at the end of 2/28!
Assassin's Creed IV: Black Flag
GamersGate
Dishonored
GameStop
Borderlands 2
Get Games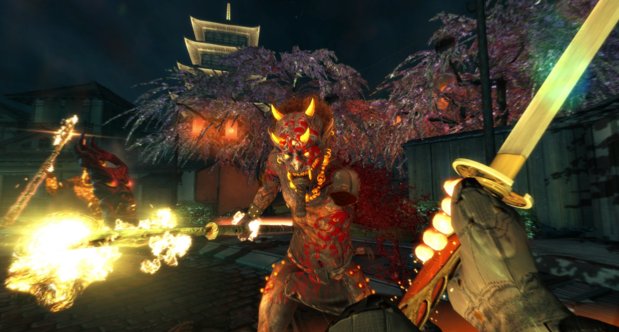 Shadow Warrior
GOG
Shadow Warrior
Green Man Gaming
Use the code H799RH-7L8NPP-RCKKT8 to get (roughly) these prices. Restrictions apply.
Dark Souls
Humble Bundle
Pay what you want for Alpha Protocol, Company of Heroes, Rome: Total War, and Hell Yeah! Wrath of the Dead Rabbit. Pay $5.99 or more to also receive The Typing of the Dead: Overkill, Binary Domain, Renegade Ops, 10 Classic SEGA Genesis Games, and Medieval II: Total War. Pay $14.99 or more to also receive Total War: Shogun 2. Select soundtracks are also included. All games work with Steam. Also, pay what you want to get Duke Nukem 3D: Megaton Edition and Shadow Warrior Classic Redux, along with the films Austin High, The Poisoning, and One Couch at a Time. Pay $10 or more to also get Defense Technica, Marc Ecko's Getting Up: Contents Under Pressure, and Cosmic DJ, along with the films Good Game and MARS. All games work on Steam, with the exception of Cosmic DJ.
Total War: Shogun 2
Indie Royale
Pay $3.47 minimum for Spice Road, 8-Bit Commando, Project Night, Alchemy Mysteries: Prague Legends, Tropical Stormfront, TrapThem, KarBOOM, and 99 Waves to die. Pay at least $6.00 for a bonus soundtrack album.
8-Bit Commando
Steam
As well as regular discounts, Steam has a couple of additional weekend deals.
Counter-Strike: Global Offensive