Weekend! Here! Download sales! XCOM: Enemy Unknown for $9, Just Cause 2 for $3, TrackMania 2 Stadium for $7, all the American McGee's Aliceseses for $8, Darksiders II for $10, a few good bundles, and loads more. Okay, off to watch some Shakespeare, bye. Here's our selection of this weekend's PC deals:
GameFly
The code GFDJUL20 will get you an extra 20% off these prices:
Max Payne 2
Amazon
Saints Row 2
Bundle Stars
Pay $5.00 for Afterfall Insanity, Air Conflicts: Pacific Carriers, Cargo Commander, Disciples III: Renaissance, Dungeons: The Dark Lord, Galaxy on Fire 2 Full HD, Kung Fu Strike: The Warrior's Rise, The Journey Down: Chapter 1, Weird Worlds: Return to Infinite Space, and Zeno Clash. All activate on Steam.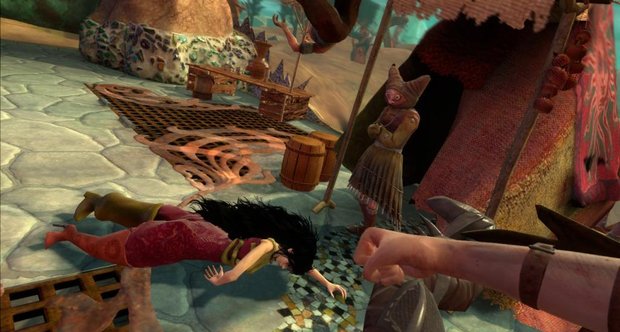 Zeno Clash
GamersGate
GamersGate's summer sale includes:
Alice: Madness Returns
Get Games
Sonic & All-Stars Racing Transformed
GOG
GOG's Russian sale includes:
King's Bounty: The Legend
Green Man Gaming
Green Man's offering GMG credit on a variety of new releases and pre-orders, plus some regular discounts:
Kane & Lynch 2: Dog Days
Humble Bundle
Pay what you want for Gratuitous Space Battles, Gratuitous Tank Battles, and Kudos 2. Beat the average price to also get Democracy 2. Most activate on Steam.
Gratuitous Space Battles
Impulse
Impulse's summer sale includes:
TrackMania 2 Stadium
Indie Royale
Pay what you want for Antipole, Chester, Dead Pixels, LaserCat, Little Racers Street, Orbitron: Revolution, Smooth Operators: Call Center Chaos, and SpyLeaks. Dead Pixels activates on Steam.
Dead Pixels
ShinyLoot
ShinyLoot's Nordic Games sale includes:
Gothic 3
Steam
Darksiders II