Now's as good a time as any to give Borderlands a bash if you haven't already, as the FPS-RPG is the jewel in the crown of this week's downloadable deals. $22 will get you Borderlands 2 and its DLC season pass, plus the GotY edition of the first game. Other bargains include Space Pirates and Zombies for $2, Natural Selection 2 for $9, Chivalry: Medieval Warfare for $9, and everything Anno 2070 for $25. Here's our selection of this weekend's PC deals:
GameFly
Trials Evolution
Amazon
BIT.TRIP VOID
GamersGate
Dark Souls
Get Games
Tomb Raider
GOG
GOG has a huge huge summer sale with 50% off a bajillion games and daily deals with mega-discounts. You'll find cracking bargains like System Shock 2 for $4.99 in the main sale, but the way to handle any sale with daily deals is to wait and see if games you want come up in dailies first. So I won't list regular sale stuff. These and more are at these prices until 6am Pacific on Saturday morning:
Syndicate
Green Man Gaming
and more with the voucher code GMG25-BAWQB-8UQWG. I skipped most of the pre-orders because they'll likely be cheaper at some point before launch.
Civilization V: Brave New World
Humble Bundle
Pay what you want for Aquaria, Fractal, Organ Trail, Pulse, and Stealth Bastard Deluxe. Beat the average price to get Broken Sword: Director's Cut, Frozen Synapse, McPixel, NightSky and Waking Mars too. Steam keys if you pay at least a dollar. All are for Android, PC, Mac, and Linux, except for Pulse, which is Android-only. Or, pay what you want for Eets, Shank, and Shank 2. Pay at least a dollar for Steam keys.
McPixel
Impulse
F.E.A.R.
Indie Royale
Pay what you want, above a minimum, for Bloody Trapland, Gatling Gears, Judge Dredd: Dredd Vs Death, and Sniper Elite V2. Most come with Steam keys.
Sniper Elite V2
Steam
As well as being on sale, Space Pirates and Zombies is free to try this weekend. Click here to install it through Steam.
Natural Selection 2
Subset Games
FTL
Ubisoft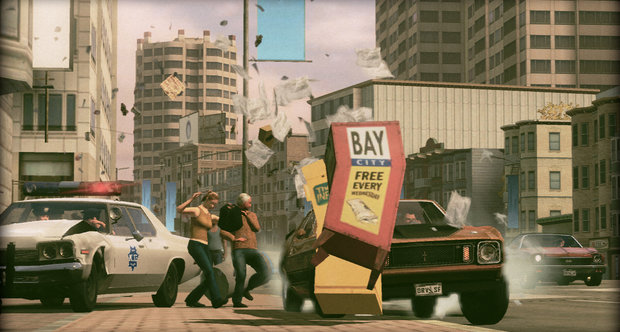 Driver: San Francisco