It's the final Friday before the next-gen console rush begins. If you're into that sort of thing, then this is your last chance to catch up on your backlog of PC games. If you aren't into that sort of thing, then get more PC games! GameFly Digital wants your BRAAAAAINS with a new Zombie promo, Steam gives you two great tastes that taste great together with Call of Juarez: Gunslinger and Far Cry 3: Blood Dragon, and Humble Bundle continues their amazing WB Bundle, which gives you all the Batman you want while still helping charity, which may or may not include helping orphaned children like Bruce Wayne. Check out the full list after the break. Here's our selection of this weekend's PC deals:
GameFly Digital
Use the code GFDNOV20 to get (roughly) these prices or if you're across the pond, use GFDNOV20UK. Some restrictions may apply.
Left 4 Dead 2
Amazon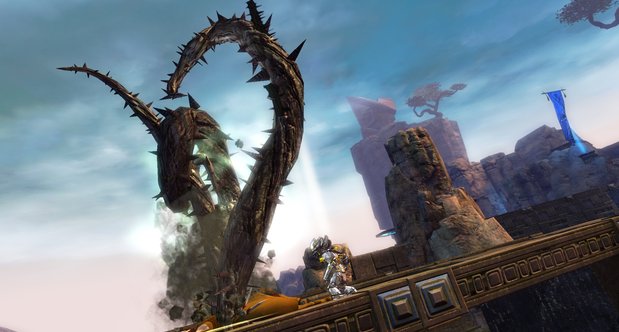 Guild Wars 2
Bundle Stars
Pay $3.98 for Mount & Blade, Majesty 2 Collection, Hoard Complete Pack, Forge Starter Pack, Crusader Kings Complete, Shelter, Enclave, Rune Classic, and Knights & Merchandise. All activate on Steam. Or Pay $3.98 for Train Simulator 12, IL2-Sturmovik: 1946, Euro Truck Simulator, GT Legends, Agricultural Simulator 2011 Extended Edition, Air Conflicts: Secret Wars, GTR FIA GT Racing, Rig 'n' Roll, and Trainz Simulator: Murchison 2. All activate on Steam. Or pay $2.49 for Clutch, NecrovisioN, NecrovisioN: Lost Company, The Void, 99 Levels to Hell, and Zombie Bowl-o-Rama. All activate on Steam, except for 99 Levels to Hell, which activates on Desura.
GamersGate
Grid 2
GameStop
Tomb Raider
Get Games
Shadow Warrior
GOG
Shadow Warrior
Green Man Gaming
Killing Floor
Humble Bundle
Pay what you want for Edna & Harvey: Harvey's New Eyes, A New Beginning - Final Cut, The Whispered World, The Chronicles of Shakespeare: Romeo & Juliet, and The Chronicles of Shakespeare: A Midsummer Night's Dream. Pay $6 or more to also receive Deponia, Journey of a Roach, and The Dark Eye - Chains of Satinav. Select soundtracks included. Pay $1 for Steam keys, with the exception of the two Chronicles of Shakespeare titles. Also, pay what you want for Batman: Arkham Asylum GOTY, F.E.A.R. 2: Project Origin, F.E.A.R. 3, and Lord of the Rings: War in the North. Pay more than the average $4.64 to also receive Scribblenauts Unlimited and Batman: Arkham City GOTY. Pay $1 for Steam keys.
Batman: Arkham City
Indie Royale
Pay $3.60 minimum for FootLOL: Epic Fail League, Reversion - The Meeting, Subject 9, Dualsus, Arkadianax, Champions of Chaos 2, Rhythm Destruction, and a mystery title. Pay at least $5.00 for a bonus soundtrack album.
Steam
As well as regular discounts, Steam has a couple of additional weekend deals.
Call of Juarez Gunslinger