The PC gaming world is still buzzing about Valve's series of announcements this week. With Steam coming to take over your living room, it seems like a good time to start stocking up on PC titles. GameFly Digital is offering up a score of EA titles, including Battlefield 3 Premium. Steam is offering up an awesome deal on Splinter Cell: Blacklist and, if Chatty's resident enthusiast valcan_s is to be believed, the PC version is the one to get. You can also check out Get Games' phenomenal Bethesda deal and GamersGate's Warhammer sale. Here's our selection of this weekend's PC deals:
GameFly Digital
Use the code code GFDSEP20 to get (roughly) these prices or if you're across the pond, use GFDSEP20UK. Some restrictions may apply.
Battlefield 3
Amazon
LEGO Lord of the Rings
Bundle Stars
Pay $2.25 for Commandos: Behind Enemy Lines, Commandos: Beyond the Call of Duty, Commandos 2: Men of Courage, and Commandos 3: Destination Berlin. All activate on Steam. Or pay $5.04 for Sanctum, A.R.E.S. Extinction Agenda, Two Worlds Epic Edition, Joint Task Force, Nexus: The Jupiter Incident, Commandos 3: Destination Berlin, Garshasp: Temple of the Dragon, and Battlepaths. All activate on Steam, except for Battlepaths, which activates on Desura. Or pay $3.53 for Rush Bros, Velvet Assassin, The Tiny Bang Story, Lunar Flight, Glowfish, and Bad Bots. All activate on Steam.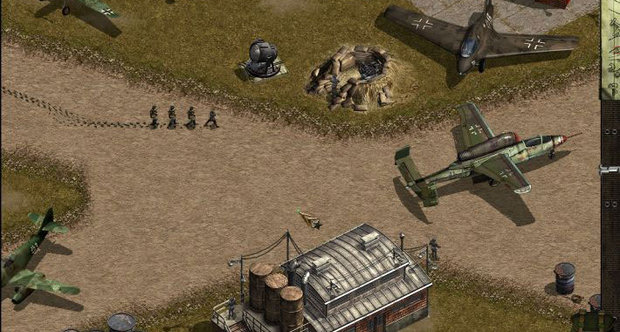 Commandos: Behind Enemy Lines
GamersGate
Warhammer 40,000: Space Marine
GameStop
Alan Wake
Get Games
BioShock Infinite
GOG
GOG's Super 5 Promo includes VVVVVV, The Adventures of Shuggy, Gateways, Time Gentlemen, Please + Ben There, Dan That!, and Escape Goat. Buy one for 60% off, two for 65% off, three for 70% off, four for 75% off, or all five for 80% off.
Jagged Alliance 2
Green Man Gaming
The voucher code GMG20-WS93W-R39MD gets you 20% off most games, which you'll need for some--but not all--of these prices:
Blood Bowl: Chaos Edition
Humble Bundle
Pay what you want for Tropico 3, Sine Mora, SkyDrift, and Anna Extended Edition. Pay more than the average $6.00 to unlock Tropico 4 and Jagged Alliance: Back In Action. Pay at least $1 to get Steam keys.
Sine Mora
Indie Royale
Pay $5.49 minimum for Electronic Super Joy, March of the Eagles, Rigonauts, Sengoku - Way of the Warrior, 99 Spirits, and a mystery title. Pay at least $8.00 for a bonus soundtrack album. Some activate on Steam.
March of the Eagles
Steam
As well as regular discounts, Steam has a couple of additional weekend deals.
Splinter Cell: Blacklist