Either I'm exhausted from swimming for the first time in 14 years, or this weekend has an absurdly large number of discounts. Maybe both. And that's a very lazy way to begin any writing. Anyway, you'll find the new Tomb Raider for $20, Trine 2 for $4, SimCity 4 for $5, Retro City Rampage for $8, Brutal Legend for $10, Anno 2070 Complete for $25, Far Cry 3 for $30, and loads more. Here's our selection of this weekend's PC deals:
GameFly
SimCity 4
Amazon
Binary Domain
GamersGate
The huge spring sale includes:
Trine 2
Get Games
Get any two of these for $24:
Carrier Command: Gaea Mission
Civilization V Gold (Steam)
DCS: P51 Mustang
F1 2012 (Steam)
Hitman Absolution Professional Edition (Steam)
LEGO The Lord of the Rings (Steam)
Serious Sam 3 + SS: The First Encounter HD + SS: The Second Encounter HD (Steam)
Sleeping Dogs (Steam)
Sniper Elite V2: High Command Edition (Steam)
Sonic All-Stars Racing Transformed (Steam)
Anno 2070
GOG
Retro City Rampage
Green Man Gaming
GMG offers 20% off most games with the code GMG20-GGN5D-FC3NA, which you'll need for all of these prices: GMG has 25% off these with the code GMG25-42GVN-KJTKK:
Resident Evil: Revelations
Groupees
Build your own pay-what-you-want bundle.
Death Ray Manta
Impulse
The Amazing Spider-Man
Indie Gala
Pay what you want for Adventure Apes and the Mayan Mystery, Kill Fun Yeah, Android game Rebuild, Shadowgrounds, and Zombie Driver HD. Beat the average price to also get Gimbal, Mass Effect 2, Shadowgrounds Survivor, Shank 2, and Zombie Driver HD's soundtrack and Apocalypse Pack DLC. Some come with Steam keys.
Shank 2
Indie Royale
Pay what you want, above a minimum, for Back to the Future: The Game, Cargo Commander, Dungeon Hearts, Pid, and another three yet-unrevealed games.
Pid
Origin
Origin's big sale includes theses:
Dead Space 3
Steam
As well as being on sale until Monday, Dino D-Day is free to play until 1pm Pacific on Sunday. Click here to install it through Steam. Steam's Rockstar weekend sale has 50-67% off all Rockstar games, plus bigger discounts in daily deals. Obviously you'll want to wait to see if the game you wants comes up in a daily first. Until 10am Pacific on Saturday:
Max Payne 3
Ubisoft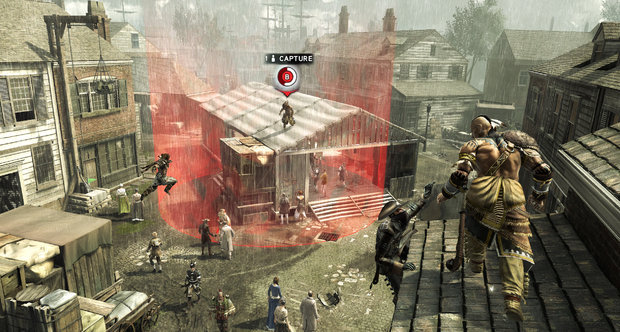 Assassin's Creed III