The weekend is upon us! Ready thyself. My warmup for the weekend is dancing like a maniac, a maniac, but you, perhaps your routine is buying cheap downloadable PC games? This weekend you'll find StarCraft 2 for $20, Just Cause 2 for $4, Postal 3 for $4 (I don't know, maybe you're morbidly curious), Chivalry: Medieval Warfare for $10, Natural Selection 2 for $13, Borderlands 2 for $24, Tomb Raider pre-orders for $36, a bundle of oh so many Tomb Raider games for $24, and Dead Space 3 for $42. Here's our selection of this weekend's PC deals:
GameFly
Medal of Honor Warfighter
Amazon
Amazon's offering $30 in credit to spend on other 2K Games releases if you pre-order BioShock Infinite. Something to save for Grand Theft Auto V, perhaps. Plus, regular discounts:
Poker Night at the Inventory
Blizzard
StarCraft 2: Wings of Liberty
GamersGate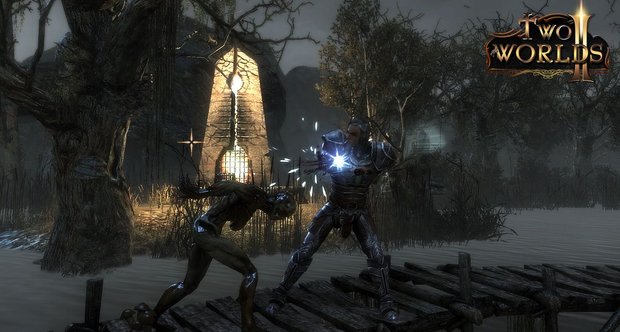 Two Worlds 2
Get Games
Just Cause 2
GOG
The Whispered World
Green Man Gaming
Get 20% off most games with the voucher code GMG20-P4DLK-FKYRS. This makes many games cheap, including:
Chivalry: Medieval Warfare
Impulse
Magicka
Indie Gala
Pay what you want for 7.622MM, Darwinia, Talisman Prologue, and Introversion's Subversion City Generator and Voxel Destruction tech demos. Beat the average price to also get Defcon, Demigod, Fibrillation, Galactic Civilizations 2, Hearts of Iron 3, King Arthur, King Arthur: Fallen Champions, King Arthur 2, Multiwinia, Uplink. Some activate on Steam. Ends today!
King Arthur 2
Indie Royale
Pay what you want for Delve Deeper, Guns of Icarus Online, Kung Fu Strike: The Warrior's Rise, KRUNCH, and Strong Bad's Cool Game for Attractive People. Some activate on Steam.
Guns of Icarus Online
Origin
Dead Space 3
Steam
As well as being on sale, War of the Roses is free to play until 1pm Pacific on Sunday. Click here to install it through Steam.
Natural Selection 2