For as much fun as I've always had playing rhythm games on a plastic instrument, it intrigues me that developers continue to try to crack the code of how to teach players to play real instruments. Rock Band 3 and Rocksmith have had mixed results, with some enthusiasts turned off by overly complex user interfaces. BandFuse: Rock Legends, from Realta Entertainment, is the latest game to center around teaching real guitar, placing a greater emphasis on user friendliness. focalbox BandFuse uses the console as a central hub to set up all of your shredding needs. Players can use any real-world electric guitar (or bass, if you so desire) and plug it into any available console port. The game will also come packaged with an RCA dongle to help reduce audio lag. The one I saw during my time with the game was noticeably bulky, but the developers hope to have it down to a manageable size before the final build is complete. Realta is shooting for a minimal setup to get players into the game right away. The interface will look familiar to anyone that's ever picked up a guitar. The highway is mirrored to the guitar's neck, giving players a chance to align their fingers, as necessary. Color-coded notes scroll across horizontally, with numbers helpfully labeling which fret the left hand should press down against. The musical key appears just above the highway. As players grow accustomed to their favorite songs, they can turn up the difficulty (across five different levels) and start to notice more advanced techniques appear. With the basics in mind, I picked up a Fender guitar and went to work on Pearl Jam's "Alive" on the easiest setting. Being a rhythm game veteran, I was able to pick up the general idea of playing to the beat. The interface was easy to read and I quickly understood where to move my fingers and which strings to pluck. However, there's no way to teach motor skills. If you've never picked up a guitar before, expect to experiment with moving your left hand and apply different pressure to various frets. While I was able to understand when to play notes, I didn't quite grasp how hard to press down on frets. That's less of an issue with the game and more about me being out of practice. Fortunately, practice makes up the bulk of BandFuse. The game's Shred U mode allows players to train with any of the game's songs as much as they'd like. Numerous options allow for various degrees of training. Adjusting the song speed, for example, will slow down the song to any desired speed, allowing for a greater focus on finger movement. The note-for-note option, on the other hand, emphasizes individual notes, with the song stopping at every missed note until it's played correctly. More advanced players can also find something to play with in Shred U--the Backing Tracks section lets guitarists play with scales and other forms of music theory.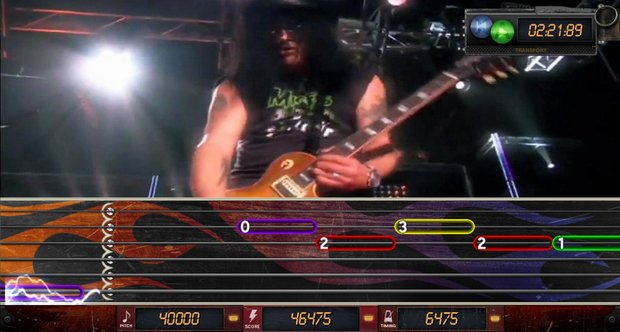 Train yourself on the guitar at your own speed

While BandFuse is mostly aimed at beginners, it also features plenty to entice veterans. Authentic note tracking is in place for lead, rhythm, and bass guitars. Sounds can be tweaked using a number of different amp settings. There are six different amps and nine different pedals to play with before starting any song, allowing veterans to give their own unique sound to familiar hits. While I had no idea how adjusting distortion, tempo, reverb, tremolo, or any of the other settings would affect what I was playing, Realta hopes to have presets in place for the game's final version. BandFuse features 55 songs, all of which will be available right out of the gate. The soundtrack is eclectic, ranging from pop hits like Fall Out Boy's "Sugar, We're Goin' Down" to rock classics like Judas Priest's "Breaking the Law" and Rick Springfield's "Jessie's Girl." Any friends that want to get into the action without plucking strings can always pick up a USB microphone and sing along to the game's karaoke mode. Up to four friends can get together locally to play lead, rhythm, bass, and vocals in one session. BandFuse: Rock Legends appears to build on the foundation set down by Rocksmith and give guitar enthusiasts an intuitive new learning tool. While a number of guitar legends like Slash and Zakk Wylde appear during the game's Career mode to share stories about mastering their craft, the game's main draw is mainly about picking up an axe and learning on your own. Look for BandFuse to take players to school in the spring.