How'd you fancy pre-ordering Deus Ex: Human Revolution for only $28.80, saving you 43%? Or perhaps you fancy picking up splendid surreal first-person face-puncher Zeno Clash for a bargain $3.75? It's but the tip of the sales iceberg lurking in the PC digital distribution waters this weekend. I do have a question for deal fans: what do you make of the one-day sale fad that's ever so hot right now? Personally, it really gets on my wick. I believe the idea is that customers will feel obliged to check sites more regularly, leading to more impulse purchases. However, I'm unlikely to be checking stores over the weekend, and these deals are rarely announced in advanced--so, say, they can't be publicised in this here roundup. Instead, I entirely miss the deals, and end up displeased with the damn fool store running them. I'd much rather we went back to the standard weekend deals model. And, on a professional level, it gets my goat that I have to spend even more of my Friday writing this, trying to figure out which poorly-labelled deal expires when. But that's enough of my grumbling. Here's our selection of this weekend's PC deals at digital distributors:
Steam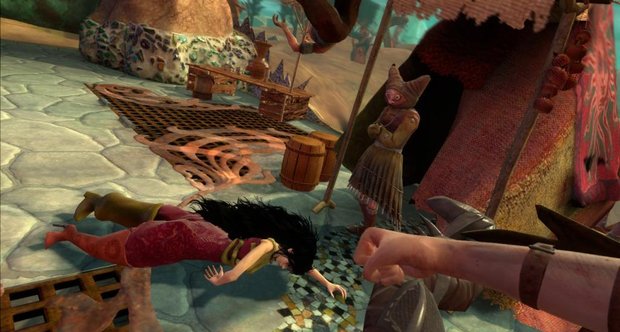 Zeno Clash
Green Man Gaming
Pre-order Deus Ex: Human Revolution for only $28.80--a whopping 43% discount--thanks to a combination of a discount and a voucher code. I would suggest you do so, especially as it's a Steamworks title and you'll just get a key to plug into Steam. Simply add it to your basket then apply the code GETYO-URWAN-DOUT1 at the checkout.
Deus Ex: Human Revolution
S2 Games
Heroes of Newerth
Direct2Drive
Until Saturday, 10am PST:
Assassin's Creed Brotherhood
Impulse
Friday:
Lead and Gold: Gangs of the Wild West
GamersGate
Friday:
R.U.S.E.
Get Games
Divinity II: The Dragon Knight Saga
Beamdog
Mount & Blade Warband
Good Old Games
Until Saturday, 5:59am EDT:
Freedom Force vs. The Third Reich
Games for Windows
Batman: Arkham Asylum