The field of 64 in this year's Heroes of the Dorm came down to four teams on Saturday. At the end of the night, only one team stood above the rest. Université Laval crushed the University of Buffalo 3-0 to become the 2018 Heroes of the Dorm champions, capping off a dominant weekend for the first Canadian team to reach the Heroic Four.
The tournament-clinching game came down to Volskaya Foundry. With a team composition of Malfurion, Genji, Garrosh, Jaina, and Fenix, Laval could not be stopped. Jerome "Earth" Levesque did some serious work with Fenix, with his Ultimate helping wipe out Buffalo's players early and often. With the Triglav Protector (the two-person mech only found on Volskaya Foundry) at their disposal, Laval strolled to Buffalo's Core and destroyed it to clinch the tournament.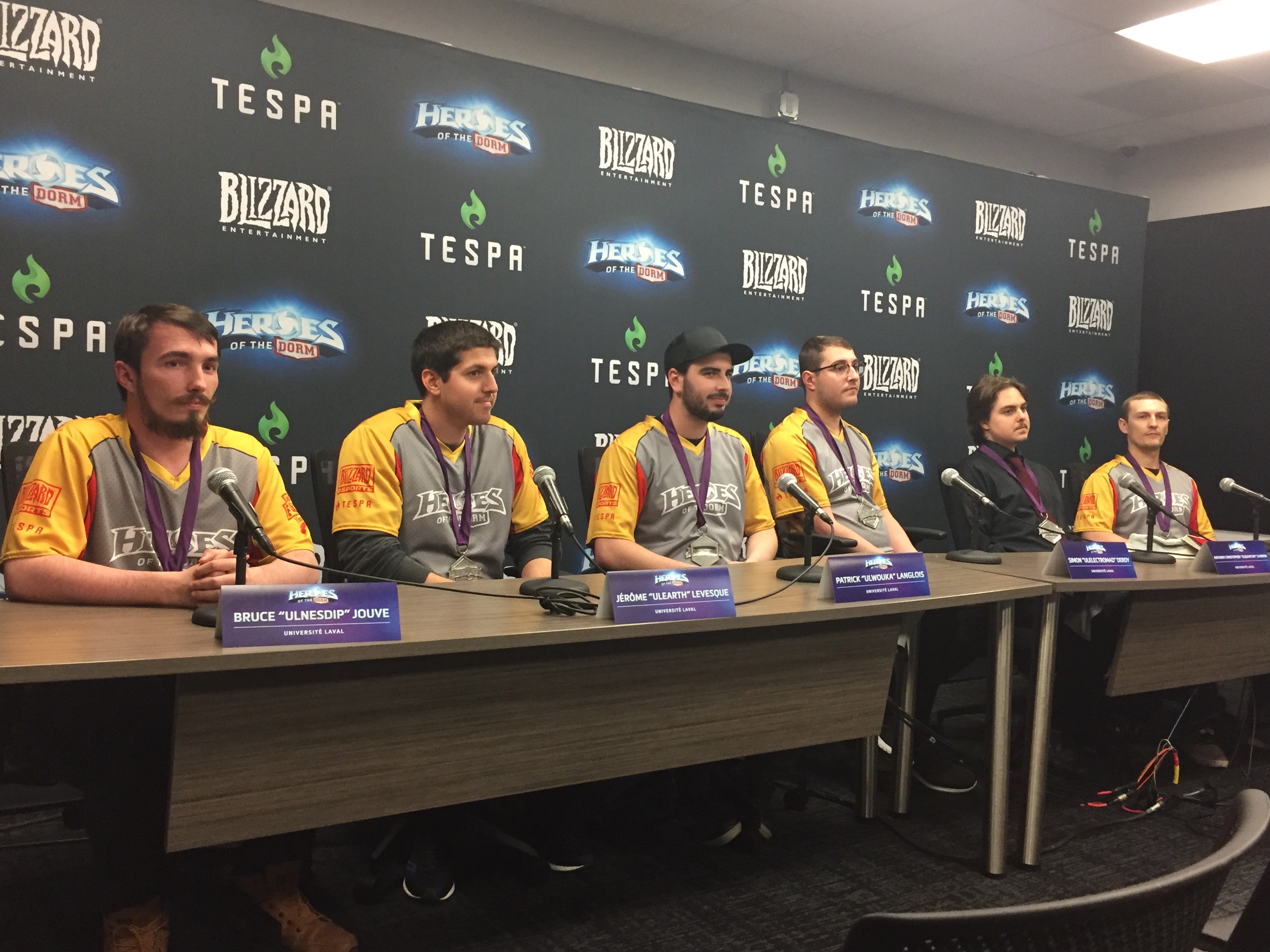 The first game in the series went to Tomb of the Spider Queen, where Buffalo team captain Allen "FantaFiction" Hu excited the Blizzard Arena crowd by selecting Deckard Cain, the most recent addition to the Heroes of the Storm roster. But while FantaFiction was able to get off some effective Ultimates, Laval's teamwork could not be disrupted and they cruised to a Game 1 victory.
Game 2 was held on Infernal Shrines, where things didn't get any less difficult for Laval. In fact, with Medivh in their fold, victory came just as easily. They marched down the lane and efficiently took the second game in just 15 minutes.
Saturday's action began with Laval facing off against Kentucky. Kentucky got the crowd excited early when team captain Mike "Quonzar" Dittert went with an outside-the-box Junkrat pick on the opening Dragon Shire battleground. But Laval had little trouble in Game 1, picking off Kentucky's players with surgical precision and picking up the first Dragon Knight at just the six-minute mark. A later Dragon Knight pickup was enough to help lead Laval down the field to take out the opposing Core. Game 2 went to Infernal Shrines and it was all Laval, as they wiped out the Kentucky team in just 13 minutes and marched into the Core virtually unopposed.
Game 3 didn't look to be much better for Kentucky, as Laval walked into Saturday undefeated on Tomb of the Spider Queen, but the draft went all topsy-turvy, as Kentucky went with double supports in the form of Rehgar and Stukov, while Laval's Earth decided on Ragnaros. Regardless of the oddball draft, Laval wasn't about to argue with the results, as they completely dominated on Tomb of the Spider Queen, crushing Kentucky's spirits with another Ace and cruising to the Grand Finals.
The second match of the day saw Buffalo take on Cal Poly Pomona, kicking their series off on Cursed Hollow. Buffalo was on a good pace throughout, but Pomona rallied out of the blue behind Warren "Pally" Willis' Fenix, who helped clear out a chunk of the Buffalo team, leading to a Core rush that decided the first game.
Game 2 shifted to Tomb of the Spider Queen, where FantaFiction brought out Deckard Cain for the first time that day. While Buffalo fell behind and faced massive resistance at the Core, they were ultimately able to tie the series at one a piece.
The third game went to Volskaya Foundry, where it was Cal Poly's turn to think outside the box. With Medivh, Fenix, and Leoric staring them in the face, Cal Poly's Pally opted for Li-Meng. But even with Cal Poly's unconventional composition, this game was even throughout. It came down to a late sequence where both teams traded two for two, but Buffalo picked up the Triglav Protector and was able to ride it to victory.
Game 4 went to Braxis Holdout, where Cal Poly surprised everyone with the tandem pick of Cho and Gall. It was a huge gamble, but one that paid off in spades, as Cho'Gall was too bulky and sturdy for Buffalo to topple. He also asserted himself in other aspects of the game, including swiping an Archangel boss from under Buffalo's nose. But on top of all of that, Cho'Gall nearly single-handed rushed and destroyed the Buffalo core in a display of wild dominance.
The tiebreaker went to Infernal Shrines. This time, Buffalo counter-picked with Cho'Gall in mind, forcing Cal Poly to opt for Cassia and Johanna, instead. Buffalo wasn't playing around anymore, as they polished off Cal Poly in less than 15 minutes to send them home.
For their victory, Université Laval's team members receive a full scholarship for the rest of their college tenures.