It is easy to sweep the sports game genre under the rug as each year we get new entries of the same franchises. Most years the updates to FIFA, NBA 2K, and Madden NFL are iterative and leave gamers asking for more. On top of this, PC gamers have been left out in the cold when it comes to football games. There had been a void in our Steam libraries for too long, and Mutant Football League has finally scratched that itch we have felt since the days of NFL Blitz 2000. Gamers deserved an arcade-style football game, and Mutant Football League delivers. It is the spiritual successor to the old Mutant League Football game and is executed with a high attention to detail. It is our pleasure to award Mutant Football League the title of Shacknews Best Sports Game of 2017.
Mutant Football League offers gamers a way to play online or locally on Steam or Xbox Game Preview. The game was built on the Unity Engine and runs like a dream. MFL supports ultrawide monitor resolutions and has a robust season mode. The game is a breath of fresh air in the world of sports games that are dominated by ultimate team and virtual currency microtransactions. It is pure, unadulterated footbal with a mutant twist. Dirty Tricks like bribing the Ref, killing the opposing quarterback and others add another element of strategy to the arcade-style game.
Full disclosure. I own a Mutant Football League team. Many Shackers have heard of the troubles I ran into as a Kickstarter backer of this game. I have always wanted to own the Cleveland Browns, so this $5000 Kickstarter tier appealed to me. We agreed that my team would be a parody of the Cleveland Browns named the Steamland Cleavers. Apparently this didn't end up working out due to some copyright concerns and the team was renamed Leaveland Burns. There is also a player on the team named Doit For Shacknews. Despite the issues we had with naming the team, I worked with lead developer Michael Mendheim to bring a Mutant Football team to the shores of Lake Eerie.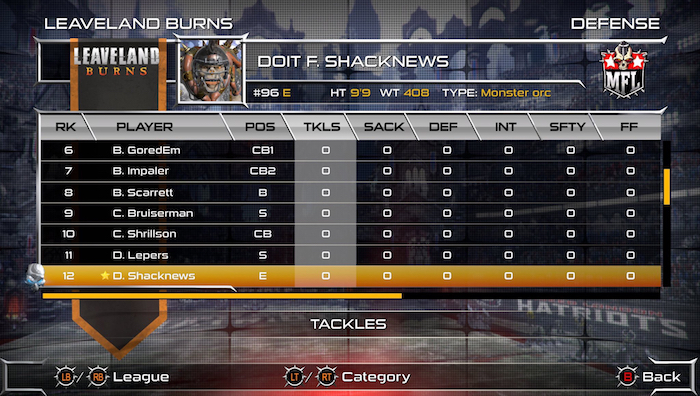 Congratulations to the MFL team on successfully bringing a fun and engaging arcade-style football game to PC. We are pleased to award the the title of Shacknews Best Sports Game of 2017 to Mutant Football League. RIP, Steamland Cleavers.
---
Be sure to keep up with the rest of The Shacknews Awards as we celebrate the Year of the Games: 2017.